The juniors at Austin High School are wrapping up their third year with the innovative 3DE instructional model! As the inaugural cohort of 3DE students in Houston, they have tackled 16 real business case scenarios from prominent companies such as Accenture, UPS, and Quanta Services and equipped them with invaluable critical thinking and problem-solving skills.
Now in their 11th-grade year, they had the unique opportunity to channel their creativity and apply their problem-solving skills to create their own businesses. In February, they showcased their products and services at the first-ever Houston 3DE Market Day. This event was a culmination of their hard work, determination, and collaboration, with an opportunity to share their achievements with the wider community.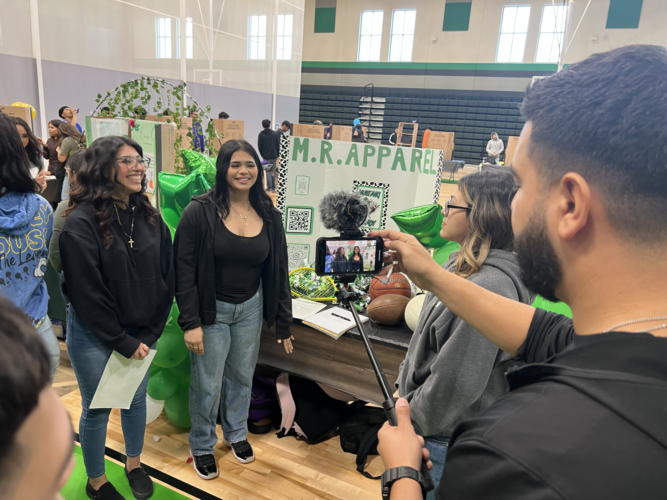 Kassei, an 11th-grade student who has been in the program since its inception, still remembers how nervous she used to be when she first started 3DE in the 9th grade. However, with the constant practice of solving real challenges, the support of the business professionals, and the 3DE teachers allowed her to build her confidence and develop real-world skills.
"3DE really shaped my mind and brought me to a broader realization of how the business industry really works and what really goes down in an office. So, all of these challenges and all of the class time that we take really go into driving in that experience and prepare us for the real business world."
Learning how to work in teams is one of the biggest takeaways for most 3DE students like Kassei. "I used to take control of everything and micromanage it. Now I really know how to share and work through teamwork as a way to accomplish things. I know people have their strengths, and I know my strengths, so we all work together." (Watch her entire testimonial here)
Next year as seniors, the students will have the opportunity to work on a real consultancy project for a company, putting their critical-thinking skills to the test in a real-world setting.
The success of the 3DE instructional model in Austin High School's inaugural cohort demonstrates the transformative power of this innovative approach to education.
With four 3DE campuses already established in Houston and plans to expand to Sam Houston's School in 2024-2025, more students in our community will have the opportunity to develop the competencies they need to succeed in an ever-changing world.
As more schools adopt the 3DE instructional model, we have the potential to revolutionize education and create a more impactful learning experience for students for generations to come. Thank you to all who continue to support this transformative model and dedicate their time to help students during this transformative learning journey.
To get the full scope of the 3DE model, a new full-length documentary that features 3DE – "A Cure for the Common Classroom" – has just recently been released on major streaming services (Apple TV+, Prime Video+, and YouTube). You can view the trailer here. As background context, the film is created and produced by the Reimagining Education efforts of Richard Branson's foundation, and profiles 3DE as one of three innovations that represent the potential of high school redesign.
Along with providing commentary on the need for change by education research experts, the film follows three students through their senior year, one of which is Jabari Courtney from 3DE at Banneker High School in Atlanta, to tell the human story behind the education models.